Goertek's latest barometric air pressure sensor solutions deliver ultra-high precision and low power pressure monitoring in a miniaturized size
QINGDAO, China, July 6, 2017 /PRNewswire/ -- Goertek Inc. (SHE: 002241) today launched the latest digital air barometric pressure sensor with the miniaturized size of 2.0 mm × 2.0 mm × 0.76 mm, one of the smallest barometers for consumer applications.

Goertek has selected the Infineon Technologies (IFX) pressure sensor chip-set for its pressure sensor solution. This chip-set employs market-disrupting capacitive sensor elements, offering several benefits. The sensor offers ultra-high precision, due to its extremely low intrinsic noise, excellent temperature stability over wide pressure and temperature ranges, and low energy consumption.


"Infineon highly recognizes that Goertek has developed a unique proprietary packaging method to house Infineon's ultra-high precision (±5cm) pressure sensor chip-set for its new leading edge pressure sensor products. It is believed that this new packaging form factor will significantly speed-up the market adoption of Infineon's disruptive capacitive pressure sensing technology. Our team has committed to give a full technical support of the pressure chip-set to Goertek's continuous efforts in renovating new product packaging. This successful story has shown that both parties have further strengthened solid basis of the technical collaboration in sensors." Roland Helm, Segment Head of Sensors, Infineon Technologies AG.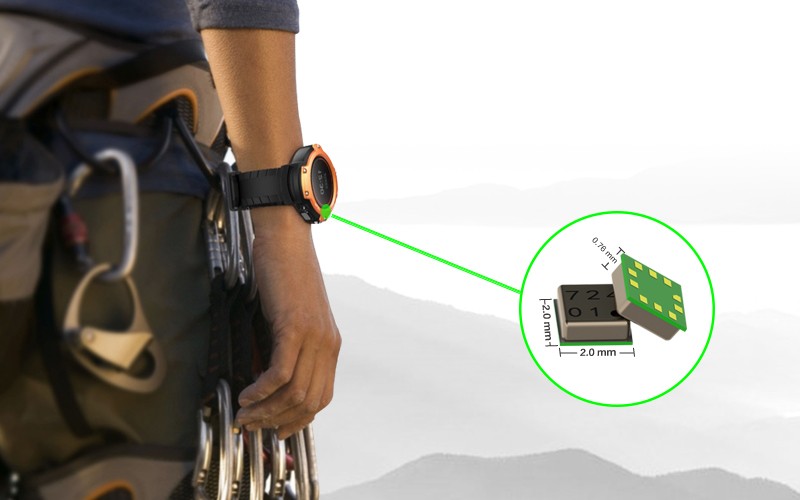 Goertek's lastet digital air barometric pressure sensor
Goertek's leading-edge package solution combined with the IFX chip-set creates the most competitive pressure sensor solution in the market. The small sensor size and high-precision combined with low energy consumption make it an ideal device for mobile handsets, wearable devices, drones, and fast growing IoT devices.
Goertek's leading edge pressure sensor solution is capable of precision to +/-0.005 hPa (+/-5 cm), it can measure air pressure between 260 hPa and 1260 hPa and has a pressure temperature sensitivity of less than 0.5Pa/K. Raw data can be transferred using an I2C or SPI interface, with compensated pressure values being calculated in the host device, providing a level of flexibility unmatched by competitors. For example, custom software filter algorithms can be easily added into the sensor software driver. An integrated FIFO, able to store the last 32 measurements, facilitates further system power savings by allowing the host processor to remain in sleep mode for long periods between read-outs.
Packaged samples are available from Goertek now, with volume production targeted in July 2017. Goertek is also offering starter kits and demonstration boards for designers, which enable fast testing and prototyping to minimize time-to-market.
About Goertek
Goertek Inc. is a global leading high-tech company which was established in June 2001, and listed on the Shenzhen Stock Exchange in 2008, with main focus consists of R&D, production and sales of precision components(Micro-Electro-Acoustic, pico projector module, sensor, etc.) and smart hardware (VR/AR, Smart Wearable, Smart Hearable, Robotics and Drones). By outstanding competences and solid vertical integration, Goertek has built long-term cooperation with many global leading high-tech brands. Since listing, Goertek has growing rapidly with the growth rate of 44.5%. By the end of 2016, the sale revenue of Goertek is 2.795 billion dollars.
About Infineon
Infineon Technologies AG is a world leader in semiconductor solutions that make life easier, safer and greener. Microelectronics from Infineon is the key to a better future. In the 2016 fiscal year (ending September 30), the company reported sales of about €6.5 billion with some 36,300 employees worldwide. Infineon is listed on the Frankfurt Stock Exchange (ticker symbol: IFX).