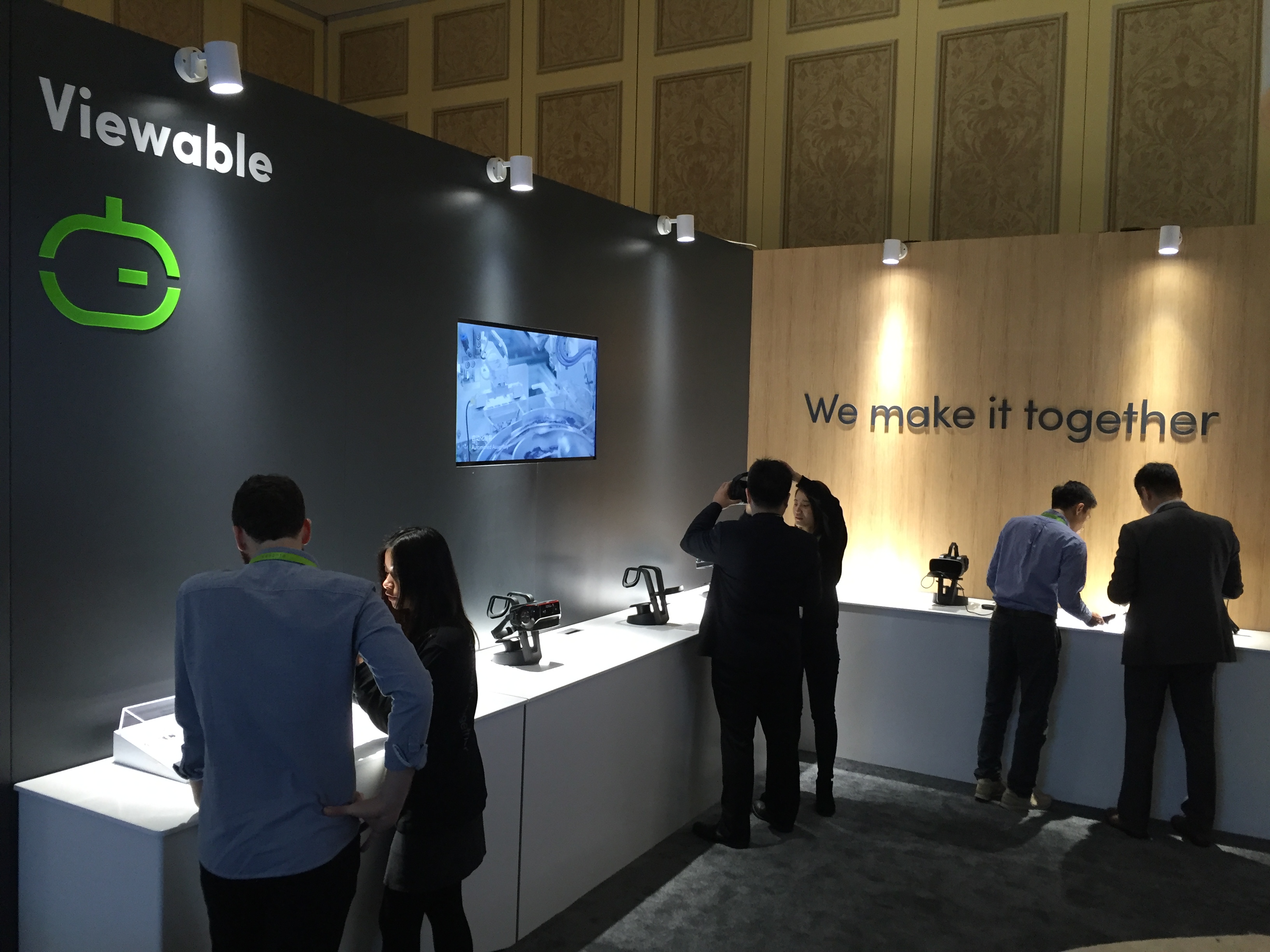 LAS VEGAS, Jan. 11 ——At the 2018 Consumer Electronics Show (CES) that is now taking place in Las Vegas, Nevada, Goertek Inc. has brought with them VR and AR, Smart Audio, Smart Wearables, and other smart hardware products and solutions. Along with their craftsmanship and innovation, Goertek is promoting in full swing their newly developed smart hardwares.
Continuous Innovations  in VR/AR products 
With continuous innovation, Goertek has been focusing on  both R&D and manufacturing of VR and AR products.
Believing lightweight and small formfactor as the key to the future VR HMD, Goertek has spent serious efforts in these aspects. At this year's show, Goertek is showcasing its CES Innovation Award winning design - Elf. This latest Lightweight VR design uses the compacted lens solution to cut down 50% of the size and weight. Apart from Elf, Goertek has also presented a standalone VR HMD headset, which can support 6DoF tracking as well as interaction between the HMD and controllers without any external cameras or sensors. Other PC based VR at Goertek's booth include hybrid fresnic + aspheric lens solutions that have realized obvious reduction in size and weight.
In the AR aspect, Goertek sees  lightweigt and big FOV as the direction for AR products. In its  Figo2.0 lightweight AR solution, the unit weight has be reduced while the FOV has been enlarged. This wonderful AR product presents a perfect experience of virtual and real scenarios to users by featuring the Birdbath optical solution and high precision surface film technology. 
Pioneer in the Acoustics Field
Goertek has been a continuous pioneer in the field of acoustics, transmitting high quality sounds.
At the show, the company has released its signature wireless headphone and its flagship smart speaker that is jointly developed with international leading semiconductor manufacturer NXP. The smart speaker, named Saint, not only supports Android Things, but also the Google Assistant voice interaction and Google cast streaming media broadcasting functions. These products are fully putting into play Goertek's strengths in acoustics components and its one-stop solutions.
Goertek also brought real-time self-adjusting sound headphones that can regulate the sound quality according to the gap between the auricle and the headphone in a smart way. This prevents audio inconsistency problems caused by ear size differences or wearing differences.
The Goertek Dynaudio Music series are intellegent wireless speakers that have used its advanced HiFi level driver technologies, including the integrated diaphram with unique MSP material, large voice coil with pure aluminium wire, and special soft dome tweeter with precise coating to fulfill excellent sound quality. and it also innovatively implements the proprietary room adaption and noise adaption technologies for the first time. It can analyze the noise in the room and environment and adjust the audio in real time ensuring a "clear and pure sound" experience.
Health Products, Breakthroughs in

Smart Wearables
Goertek has continued to make breakthroughs in the field of smart wearables, devoting themselves to health and safety. At the show, the company has revealed a smart sports watch that not only can test health indicators, but also detect number of steps, calories burnt, and so on, which can be the wearer's personal health assistant. Goertek also released the first smart watch in the industry that supports NB-IoT/eMTC networks. Apart from this, Goertek also displayed many sports wristbands which can monitor the user's heart rate 24/7 without interruptions and supports precise step count and other functions.
In terms of sensors, Goertek, along with many industry leading products, presented its high-precision air barometric pressure sensor, which can probe up to 5cm of change in altitude. It can monitor heart rate through mobiles, watches, and other applications, integrating microphone, barometer, and temperature sensors into one.
Interested parties are welcomed to visit Goertek at CES 2018, booth San Polo 3502 and San Polo 3503.