Goertek-Kopin Elf Virtual Reality Reference Design wins CES 2018 Innovation Award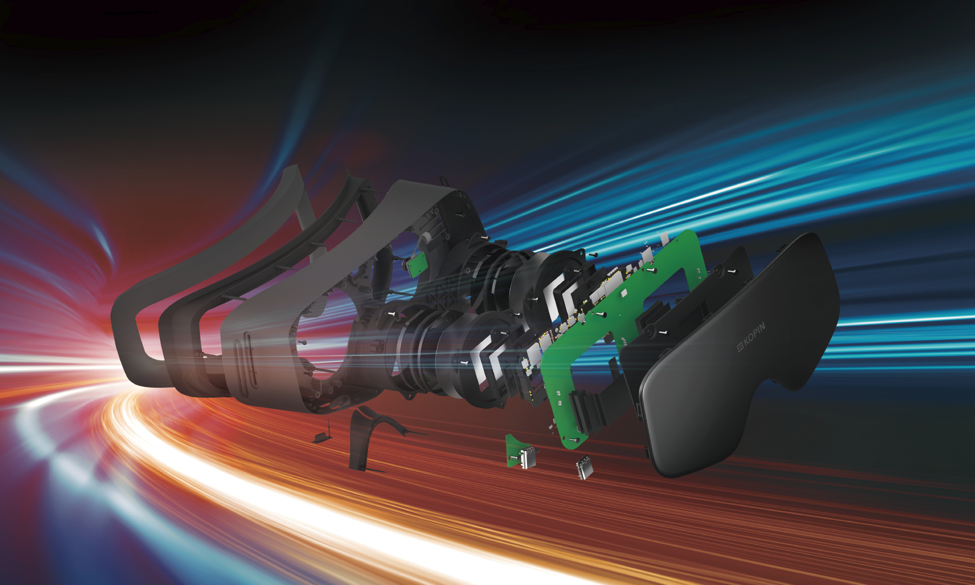 Industry's Smallest VR Headset - about Half the Size and Weight of today's standard Head Mounted Displays
Santa Clara, CA, December 5, 2017 – Goertek Inc., the virtual reality (VR)/ augmented reality (AR) industry original design manufacturer (ODM) leader, collaborated with Kopin Corporation (NASDAQ:KOPN), to create a new version of its groundbreaking Elf VR reference design, the industry's smallest VR headset with an incredibly immersive experience.
The lightweight head mounted display (HMD) eliminates barriers that have long stood in the way of delivering an effective VR experience: bulky headset designs, low resolution, sluggish frame rates and the pixelated "screen-door effect." Goertek created Elf to weigh less than 300 grams, under half the size and weight of previous VR headsets. Goertek integrated Kopin's LightningTM OLED microdisplays to deliver a new and improved dynamic range of headsets to provide users an even better visual experience with a 33% increase in contrast, 25% increase in brightness, and a wider color palette. At CES 2018, which runs January 9-12, 2018, in Las Vegas, Nevada, Goertek will be demonstrating the Elf VR headset reference designs with Kopin.
"As the world's leading VR ODM, we are uniquely positioned in the VR market as the world's most experienced industry leader, " said Dr. Pen C. Li, Goertek VP of Product Marketing. "Goertek is committed to bringing new, innovative technologies in the VR market and helping our customers manufacture and design solutions to enable new and exciting experiences. As the VR market matures, we will be here to help push the boundaries and bring the latest technology to our users." 
Kopin founder and CEO Dr. John C.C. Fan said "At Kopin, we believe that winning the CES Innovation Award reinforces the efforts Kopin is making to help manufacturers create smaller, lighter, more practical next-generation VR headsets that are capable of producing a visual experience that truly approaches reality for markets including gaming, pro applications or film."
Goertek and Kopin today also announced it has been named a CES 2018 Innovation Awards Honoree for its original ultra-compact Elf VR head mounted display reference design. Products entered in this prestigious program are judged by a preeminent panel of independent industrial designers, independent engineers and members of the trade media to honor outstanding design and engineering in cutting edge consumer electronics products across 28 product categories.
Technical specs:
●        Elf VR weighs only 300g, less than half the size and weight of popular VR headsets in the industry
●        Elf VR is equipped with Kopin LightningTM OLED microdisplay panels, which feature 2048 x 2048 resolution of each panel, to provide binocular 4K image resolution at 120Hz refresh rate.
●        The Microdisplay panels pixel density was increased by approximately 400% compared to the conventional TFT-LCD, OLED and AMOLED display, and the screen size can be reduced to approximately 1/5 at similar pixel resolution level.
●        Elf VR also adopts an advanced optical solution with a compact Multi-Lens design, reducing the thickness of its optical module by up to 60%, and reducing the total weight of VR HMD by approximately 50%
●        The reference design supports two novel optics solutions – 70 degrees FOV (Field of View) for film-like beauty or 100 degrees FOV for deep immersion.
About Goertek
Goertek Inc. is a high-tech company, which was established in June 2001, and listed on the Shenzhen Stock Exchange in 2008. We focus on the R&D, manufacturing and marketing of high-precision components (Acoustics, Sensor, Optoelectronic and 3D Packaging Module) and smart hardware (VR/AR Wearable, Hearable, AI, Robotics and etc.). Goertek is devoted to be a first-class company through fostering long-term cooperation with high-tech companies. Since going public, Goertek has been growing rapidly with a compound annual growth rate of 44.6%. By the end of 2016, Goertek achieved total revenue of $2.8B USD. For more information, please visit Goertek's website at www.goertek.com.
About Kopin
Kopin Corporation is a leading developer and provider of innovative wearable technologies and critical components for integration into wearable computing systems for military, industrial and consumer products. Kopin's technology portfolio includes ultra-small displays, optics, speech enhancement technology, voice-interface and hands-free control software, low-power ASICs, and ergonomically designed smart headset reference systems. Kopin's proprietary components and technology are protected by more than 300 global patents and patents pending. For more information, please visit Kopin's website at www.kopin.com.
Kopin and Lightning are trademarks of Kopin Corporation.
Forward-Looking Statements
Statements in this press release may be considered "forward-looking" statements under the "Safe Harbor" provisions of the Private Securities Litigation Reform Act of 1995.  These include, without limitation, statements relating to the expectation when brought to market, the new design will finally eliminate the barriers that have long stood in the way of delivering an effective VR experience, the new design will enable designs for our users that are lighter and more comfortable than ever before; and as the VR market matures, we are here to help push the boundaries and bring the latest technology to our users.  These statements involve a number of risks and uncertainties that could cause actual results to differ materially from those expressed in the forward-looking statements. These risks and uncertainties include, but are not limited to, the following: the new design may not work or may not be able to be produced in a cost effective manner; the partnership with Kopin may be terminated; the VR market may not grow; there may not be demand for our products; Kopin may not be able to provide significant quantities of consumer OLED displays; the wearable market may not grow fast; it may take longer than the Company estimates to develop products; the Company's products may not be accepted by the market place; there may be issues that prevent the adoption or further development of the Company's wearable technologies; manufacturing, marketing or other issues may prevent either the adoption or acceptance of products; the Company might be adversely affected by competitive products and pricing; new product initiatives and other research and development efforts may be unsuccessful; the Company could experience the loss of significant customers; costs to produce the Company's products might increase significantly, or yields could decline; the Company's customers might be unable to ramp production volumes of their products, manufacturing delays, technical issues, economic conditions or external factors may prevent the Company from achieving its goals; and other risk factors and cautionary statements listed in the Company's periodic reports and registration statements filed with the relevant Stock Exchange Commission.  You should not place undue reliance on any forward-looking statements, which are based only on information currently available to the Company and only as of the date on which they are made. The Company undertakes no obligation to update any of these forward-looking statements to reflect events or circumstances occurring after the date of this release.